The Pure Luxury range by Westex Carpets
The Age of Extravagance
Floor Designs love selling Westex luxury carpets around Central Scotland in the areas of Glasgow, Edinburgh , Cumbernauld, Falkirk, Stirling and Perthshire .We're a specialist in giving great advice, explaining all the benefits, giving you the best options for your budget.Our installers are second to none and we simply love Westex carpets!
Additional service is our free sampling and measuring service brought to your home – Book Here

The Pure Luxury range
by Westex Carpets
Does a blend of 100 per cent pure new wool appeal to your feet? We know it does. You're human. How about the feel of velvet? But of course.
Without further ado, let us introduce you to true modern lavishness.
Westex's Pure Luxury range is for discerning comfort zealots; those who know what a real treat is. The range doesn't make use of bold colours, or loud style or obnoxious patterns. It speaks for itself and is available in three sub-ranges, each of which comes in 12 elegant shades.
Opulence
Opulence combines beauty and wear. It is made from 100% pure new wool and is suitable for extra heavy duty residential and extra heavy duty contract wear.
Troika
Plush, warm and highly resilient, created with the highest tuft density 3-fold yarn and 100% pure new wool, Troika is one of Westex's finest velvet carpets. Troika is suitable for extra heavy duty residential and extra heavy duty contract wear.
Tundra
Tundra is a fine, high tuft density, velvet 2-fold yarn carpet in 100% pure new wool. Tundra is suitable for extra heavy duty residential and extra heavy duty contract wear.
The Pure Luxury collection carpets come with Stain Resist features, are anti-dust mite and mothproof, just in case you weren't sold on the luxury dimension.
The irresistible benefits of a Westex carpet, listed:
• Colours: large colour bank and special dye service (detailed below)
• 2&3 fold yarns to prevent pile reversal
• Superior quality for lasting resilience
• Stain resist feature keeps carpets looking better for longer
• Mothproof to protect your carpet
• Actiguard for freshness
• Treated to prevent dustmites
• Suitable for domestic and some commercial areas
• All ranges available in matching widths
• Fat delivery and first class service
Special Dye Service
If you can't find your colour in any of the 120 manufactured by Westex, don't despair. Westex can have it personally made especially for you.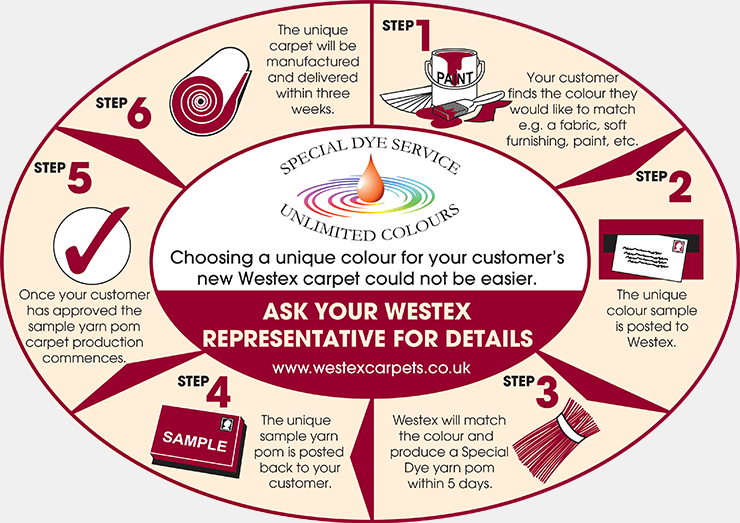 How do they do it?
Because Westex is an industry leading maker of fine carpets, using a massive diversity of colour palettes, it can offer a special dye service – which can match any colour of your choice. With an extensive colour bank and a dedicated dye house, they can guarantee a match with your colour, and they can do it in six easy steps.
1. You find the colour you want to match from a fabric, soft furnishing or any other unusual object – people have used snooker balls in the past.
2. We post the unique sample to Westex
3. Westex will match the colour and produce a special dye yarn pom within five days
4. The unique sample yarn pom is posted back to the customer
5. Once approved, carpet production begins
The carpet is manufactured and delivered within 3 weeks.
View Westex Range Carpets Here
Free sampling and measuring service brought to your home –Â Book Here