Be a hallway diva with fabulous Alternative Flooring
Be bold and
make a dramatic
entrance to
your home
FloorDesigns loves selling Alternative Flooring luxury carpets and rugs around Central Scotland – in urban centres such as Cumbernauld, Edinburgh, Falkirk, Glasgow and Stirling, as well as rural Perthshire and Fife. We're specialists when it comes to advice on alternatives, explaining all the benefits and giving you the best options for your budget. Our installers are second to none and we all just love Alternative Flooring!
To make use of our free sampling and measuring service, brought to your home –Â Book Here
Hallway Divas
You don't have to do up your hallway in the style of Lady Gaga to create a dramatic entrance to your home.  An entrance hall has many roles to play. It leads to all the other rooms in the house. It's where you kick off your shoes at the end of a busy day at work. It's where your kids run through to get their dinner. It says that you have arrived.
And it's where visitors to your home form their first impressions…
Express yourself with the flooring your choose
So what first impression do you want to make? The entrance hall is a space that almost everyone uses but spends almost no time in. So you can make it a dramatic and bold space if you want to – especially in the flooring you choose. Stamp your personality, showcase your style and set the tone for the rest of the house.
Bold colours on the walls or artwork with a big impact will really get noticed. The use of textures and patterns on the floor can add drama to this space. Which look do you want – warm and welcoming, traditional, cool and sophisticated, quirky and artistic? The decision is yours. Be a diva – be your own personal stylist – and get what you want, from FloorDesigns.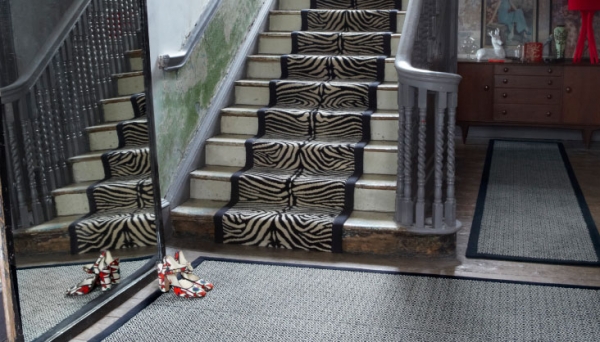 Flooring, flooring, flooring – get the picture?
The chances are you aren't going to have much, if any, furniture in your hallway. But you are going to have lots of people coming and going – and lots of wet feet trampling in on a winters day. So what you put on your floor is the biggest decision you'll make. So make sure it makes a statement.
The Lara Croft of carpets
Carpet is obviously popular – and warm. But it is also the hardest surface to keep clean. So go for something hard wearing and stain resistant. It's going to need to be tough to be up to the job. That doesn't mean you can't go for something beautiful too though.
British carpet manufacturer Westex offer plenty of options here. Their Ultima Twist range has been described as the Lara Croft of carpets – tough, durable and beautiful to look at. And Alternative Flooring offers some outrageously Gaga-esque designs alongside their gorgeously muted carpets, rugs and runners in natural tones.
Wood, stone and luxury vinyl flooring
Wood and stone are two alternative, natural materials you may consider using as your entrance hall floor. Easy to keep clean, both surfaces created a classy, sophisticated look in any home. Available in many styles and colours, they both provide enough options to suit any design you want.
However, a fantastic alternative to these natural, but often cold surfaces, are luxury vinyl tiles (LVT). The range of options available for this type of flooring is truly breathtaking. You can recreate the natural look of stone or wood. Or opt for dramatic, ultra-modern patterns, bold colours or border effects to add a designer flourish to your entrance hall. Whatever you do, you'll benefit from the warm, water resistance, non-slip advantages that all luxury vinyl ranges offer over their natural counterparts.
You have arrived!
Whichever way you choose to go – carpet or luxury vinyl, stone or wood – you can be a hallway diva and make your home's entrance one to remember. Go on, let people know they have arrived!

To make use of our free sampling and measuring service, in your own home –Â Book Here