Eye of the Kenyan Tigerwood
The following Floor Designs Falkirk installation of Karndean flooring is a great example of how subtle changes in the design of the floor can be more effective than choosing additional tile colours  in other rooms which lead off.   The customer wanted the flooring in their home to flow continual through out the large lounge, kitchen, hallway and study.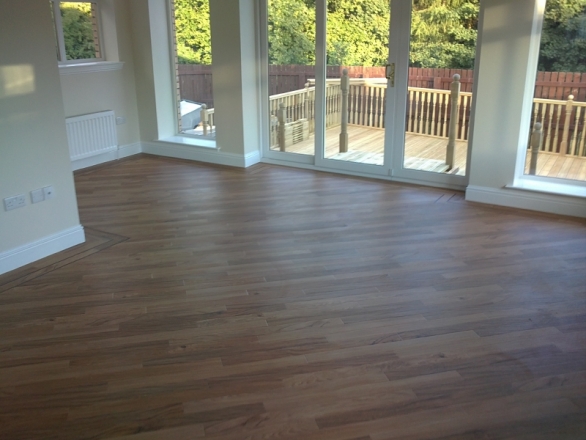 From the many colours and styles and their individual textures from the Amtico, Camaro and Karndean to choose from in the end they choose Karndean KP73 Kenyan Tiger Wood from the Da Vinci range.  The Kenyan Tiger wood certainly never lacked character with both dark and light tones it had alot to offer.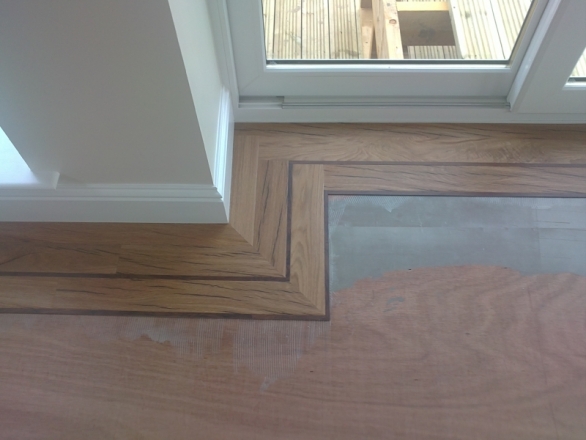 The customer also liked the idea of some kind of borders in the larger lounge and kitchen.  The Da Vinci Karndean RP41 Walnut design strips were chosen as they really stood out against some of the darker tones in the Kenyan Tiger wood.   In the lounge a single tramline perimeter border was created using a 10mm RP41 Da Vinci karndean design strip either side of a Kenyan tiger wood plank.  The planks inside the perimeter border were set at 45degrees.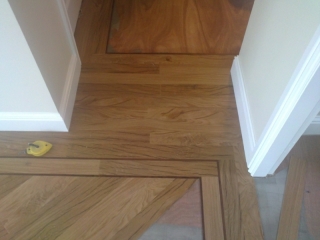 The outer perimeter planks were continued plain into the smaller study and into the hallway were a 10mm Da Vinci RP41 strip was used in between every second plank to create a ships decking effect.   With the kitchen being a good deal smaller than the lounge it was decided to keep the same design flowing but to scale the perimeter border down to a single 10mm Karndean RP41 design strip.  This worked very well and complimented the kitchen units.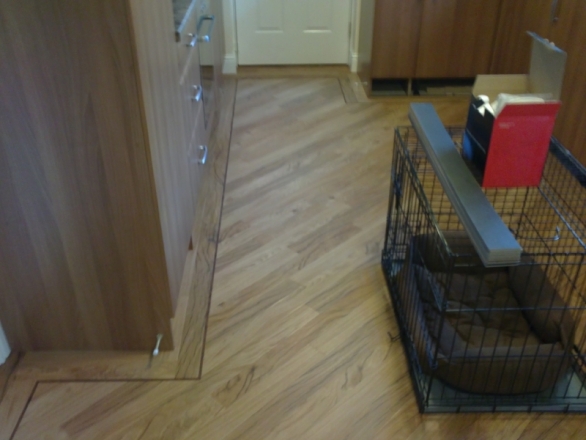 Are you looking for a reputable flooring coverings specialist to supply and install your floors at home or commercial project? 
Take advantage of Floor Designs Nationwide installations and home consultation service in the following Cities and surrounding areas: Inverness, Aberdeen, Perth, Dundee, Edinburgh, Glasgow, Stirling, Falkirk, Dunfermline, Bothwell, Harrowgate, Newcastle, Manchester, Liverpool, Cheshire,Birmingham, Sheffield, London City, Surrey, Sussex, Buckinghamshire and all the places in between.
Floor Designs provide an excellent service of supplying Karndean , Amtico, carpets, laminates. wood flooring and commercial vinyls to private individuals and commercial users, our team are experts in design, planning and fitting of quality flooring products.
Get your job done right, first time at the right price call Floor Designs today on 01324 578093.¬†Alternatively use our FREE¬†¬†'ÄėOnline Quotation Service'Äô¬†and a member of the Floor Designs team will follow up with a professional¬†'Free Survey'¬†ensuring¬†we work together and¬†everything runs smoothly first time.