Mohawk EverStrand Carpets
EverStrand
Floor Designs love selling Mohawk Everstrand luxury carpets  around Central Scotland in the areas of Glasgow, Edinburgh , Cumbernauld, Falkirk, Stirling and Perthshire .We're a specialist in giving great advice, explaining all the benefits, giving you the best options for your budget.Our installers are second to none and we simply love Everstrand!
Additional service is our free sampling and measuring service brought to your home – Book Here
Carpets to
Rival
Captain Planet's
Efforts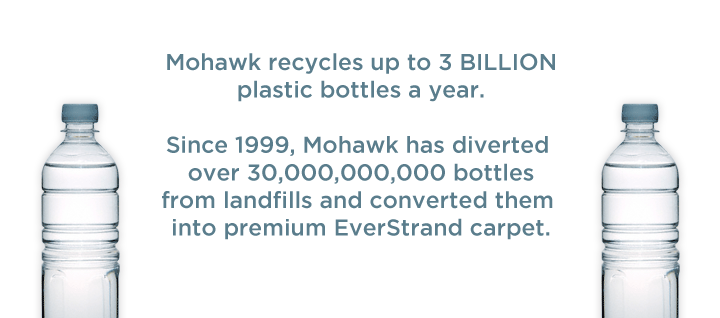 Mohawk, the flooring company and mastermind behind the ingenious EverStrand range of carpets, has blazed quite a few trails. They are the largest recycler of plastic bottles in the flooring industry and the only provider of Scotchgard™ Advanced Repel Technology – the most complete flooring stain and soil protection system in the industry. And that's before they begin to boast about their creative design feats.
The company recycles 3 billion plastic bottles a year and coverts them into premium carpet, making a huge contribution to the health of our planet. Â Since 1999 alone Mohawk has re-homed 30 billion bottles from where they were laid to waste in landfills. They then converted these abandoned bottles to premium EverStrand carpet. And you thought Captain Planet was responsible for taking pollution down to zero.
You may remain unconvinced about the causal relationship between post-consumer recycled plastic bottles and luxury carpet. But that's simply because you don't yet know about the brilliant engineering process that has allowed for one to be transformed into the other. Let us educate you:
How plastic bottles become carpet – a simpler process than you may have imagined:
A massive amount of bottles are first collected
Then the bottles are sorted before being
Ground into chips
They are then vigorously cleaned and
Cut into pellets, after which they are
Converted into premium fibre, then
Spun into yarn and finally
Tufted into carpet
This brilliant process creates carpets with real benefits, including:
Up to 100% post-consumer recycled content, verified by certification letters
Robust selection of striking textures and colors
Exceptional color clarity and fade resistance
Enhanced softness that you will love
Affordable, dependable durability
Lifetime stain resistance warranty
Scotchgard™ Advanced Repel Technology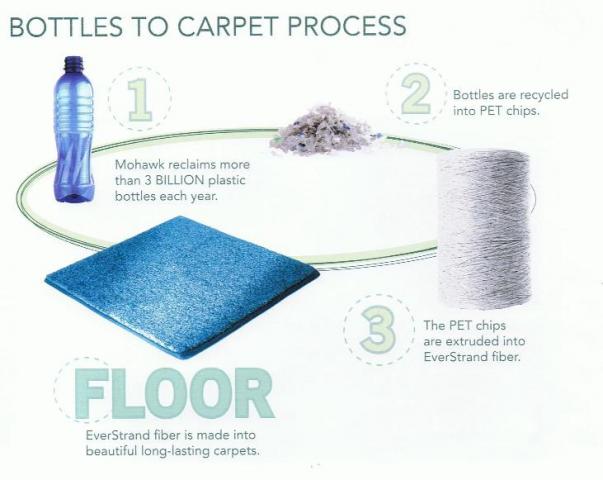 Scotchgard™ Protector Advanced Repel Technology is one tough nut, surrounding the entire fiber of a carpet and, in so doing, powerfully repelling liquid stains.
EverStrand® is an entire family of carpet fibers for varying budgets, tastes and desired levels of luxury and softness. EverStrand® is value based and nicely soft, while EverStrand BCF™, EverStrand BCF XtraSoft™ and EverStrand XtraSoft™ boast extraordinary softness. The range of carpets is designed to offer choice to the consumer while delivering high quality.
Recycling is an integral part of the production process for all EverStrand carpets, and all recycled content can be certified. This gives consumers absolute certainty that no matter their choice of carpet, it is guaranteed to be an ethical one.
The EverStrand name provides a stylish banner for a pretty impressive group of fiber. The fibres used in their carpers consume zero virgin petrochemical resources, and utilize even the by-products from the manufacturing process. The company truly is revolutionary and is making a positive global impact.
Each EverStrand product comes with the following warranties:
Lifetime stain resistance
10-year abrasive wear
10-year texture retention
10-year soil resistance
10-year manufacturing defects
Why not visit our stores to view a range of these colours in a magnificent range of colours and patterns while doing your bit to save the planet? Who would have thought shopping for carpet could be so altruistic?!

Additional service is our free sampling and measuring service brought to your home –Â Book Here