Karndean Design Features
Karndean
Design
Flooring
Floor Designs love selling Karndean design floors around Central Scotland in the areas of Glasgow, Edinburgh , Cumbernauld, Falkirk, Stirling and Perthshire .We're a specialist in giving great advice, explaining all the benefits, giving you the best options for your budget.Our installers are second to none and we simply love Karndean flooring!
Additional service is our free sampling and measuring service brought to your home – Book Here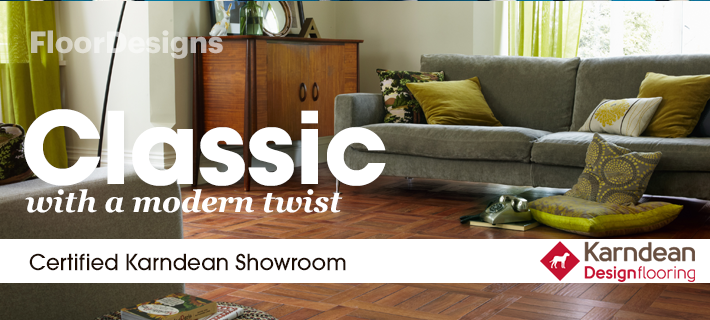 Highlighting a Feature…..
The following Karndean installation by Floor Designs Falkirk centred around a stunning bull nose stair in the customers hallway.   The idea was to create a feature by using a 10mm Karndean single line border which would follow around the perimeter of the hallway.    As there was limited natural light in the hallway the customer agreed that it was best to keep the main colour karndean wood plank lighter and compliment  this with a darker contrasting single line border.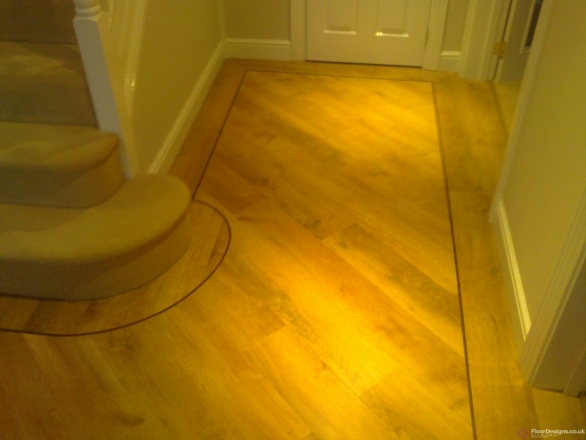 The final choice was to use Karndean RL01 Spring Oak, a 7inch wide plank from the Art Select Range.   Each plank from the Art Select Range is bevel-edged which echoes traditional plank style installations.  The 10mm design strip border used to create the outer perimeter border was RP41 Australian Walnut from Karndean Da Vinci range.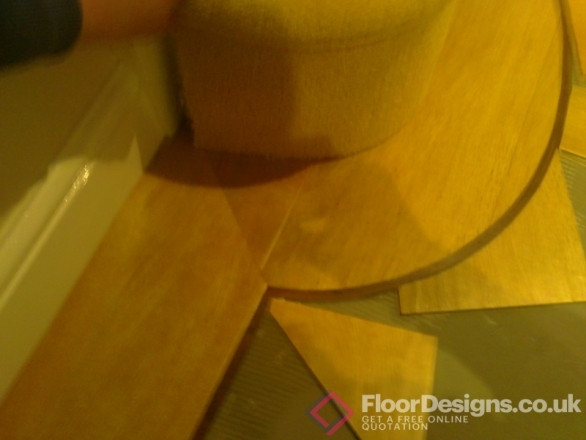 The Floor Designs customer also wanted to continue their Karndean Flooring in a large family room.  They choose a fantastic contrast from the Knight-Tile Range . Due to large windows and the volume of the natural light in this room the colour was reversed to compliment  the lighter colour theme in the hallway, the darker Karndean woodplank with a lighter oak 10mm outer perimeter border similar to the main plank in the hallway worked perfectly.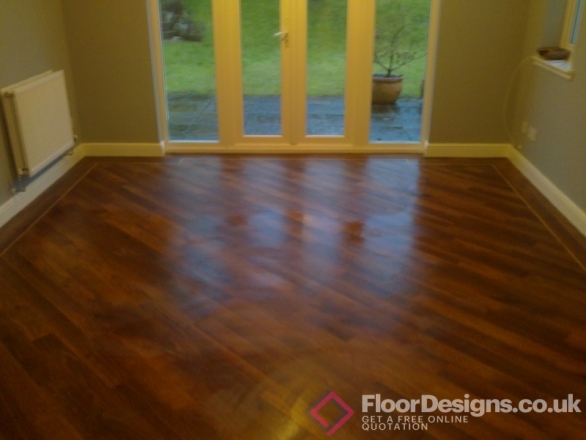 In the end Karndean KP92 Edwardian Oak as the main plank and KP40 American Oak as the 10mm design strip outer perimeter border was used.    The finished job is an excellent example of the versatility of  Karndean flooring  and also how two contrasting colours can work well together without looking out of place.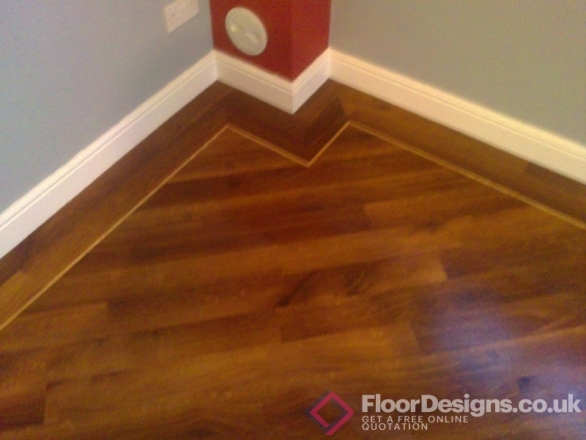 Are you looking for a reputable flooring coverings specialist to supply and install your floors at home or commercial project? 
Take advantage of Floor Designs  home or commercial consultation service and get the right advice for your job, all of our installers have been trained in fitting Karndean , Amtico, carpets, laminates. wood flooring and commercial vinyls our store advisory's are experts in design, planning  of quality flooring products.

Additional service is our free sampling and measuring service brought to your home –¬†Book Here