A standing ovation for the Westex Westend Velvet carpet collection
A truly theatrical carpet collection
FloorDesigns love selling Westex luxury carpets around Central Scotland. We cover Glasgow, Edinburgh and all major centres in between, including Cumbernauld, Falkirk, Stirling and Perth. We're a team of dedicated specialists offering top advice to enable you to make an informed choice both style and budget-wise. Our installers are simply the best and they love laying Westex carpets!
To make use of our free sampling and measuring service in the comfort of your own home –Â Book Here

A truly theatrical carpet collection
Ladies and gentlemen, let the curtain rise on the fabulously theatrical Westex Westend Velvet carpet collection.
Want to add a bit of drama to your room? Want something that catches the attention of visitors because of its beauty and elegance? Bring a touch of luxury to your home with carpets that are so smooth and soft underfoot you'll think you're walking on cotton wool. A blend of 80% wool and 20% nylon, the Westex Westend Velvet carpet collection has a rich, beautiful finish which is also durable and hard wearing.
Stunning choices of colour and quality
Westex really knows how to put catch they eye. A colourful collection, the Westend Velvet range offers you a choice of 80 stunning colours. So you really do have a visual feast to choose from.
And if you still can't find exactly what you want, you can create your own colour using the Westex special dye service – the carpet equivalent of a licence to thrill.
Choose from three different qualities in the Westend Velvet Collection to get the effect you need:
Supreme – this has the longest pile and highest tuft density to create a gorgeous show stopper of a carpet. Plush and velvety to the touch, it is highly durable as well as beautifully luxurious. Perfect for either home or commercial use, it offers the best seat in the house.
Prestige – with the same pile length as the Supreme but with a slightly lower tuft density, the Prestige offers a fantastic high quality, soft finish with unbeatable resilience.
Westend – made to Westex exacting high standards, the Westend offers all the velvety feel of the Prestige and Supreme but with a slightly lower pile and tuft density. Perfect for any room in your home.
Why Westex?
Still privately owned, Westex makes all its carpets, from start to finish, in the UK. With three dedicated manufacturing sites, the company commands total control over the design, manufacture, finish and delivery of each carpet.
The wool used in its carpets is chosen based on the principle of 'from field to floor'. With its roots in the sheep farming and textile heartlands of West Yorkshire, Westex knows the origins of all its wool, so carpets of the highest quality are guaranteed.
A show stopper of a carpet
We can guarantee that the Westex Westend Velvet collection really is a show stopper of a carpet range, fit for a blockbuster run in London's very own Theatreland. So come along to our showroom to experience the show for yourself – it really is too good to miss!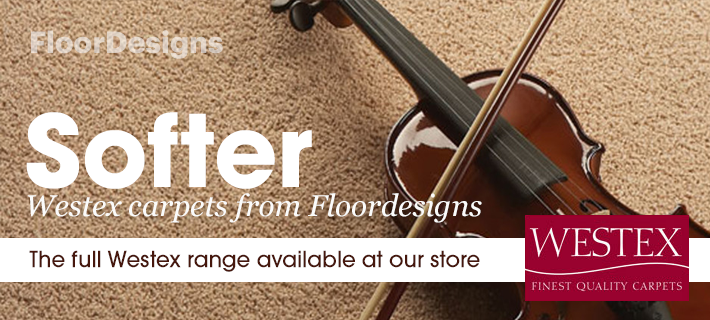 For a fee sampling and measuring service brought to your home –Â Book Here