Combining Amtico and Karndean
The customer of this new build house required a hard wearing floor covering which could compliments their family lifestyle, carpets would have been cozy but not practical with pets and small children! A hard wearing floor that could be installed onto concrete subfloors without having to remove the newly fitted skirting and facing so that ruled out laminate and wood flooring or less they used beeding which was not an option.
It was decided that designer vinyl like Amtico, Karndean or Camaro would be the ideal option as the subfloors could be primed and a self levelling screed could be used to prepare the sub floor before the chosen vinyl was installed.   One of the benefits of choosing a designer vinyl is that they can be scribed tight against skirting and facing without having to remove them.
The customer had a modern kitchen which had high gloss white units, silver handles and a contrasting dark slate worktop.  They were looking for a darker  tile to break up the high gloss white doors would create a sharp contrast that would work well.  In the end the Amtico Tile РSL23 Graphite Slate 12 x 18 inch  with 3mm Amtico MP38 Silver stripping was the clear winner.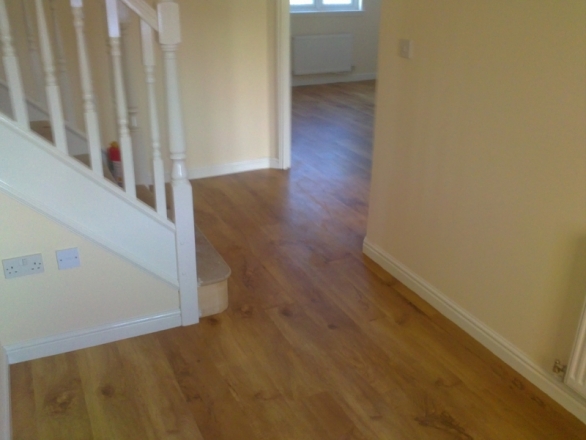 The Kitchen lead into a dinning area and  utility room, because it was a fairly large open space we created an Amtico staggered  brick effect floor design to add interest to the overall floor space.    To compliment this floor Karndean wood plank was installed in the hallway and study,  Karndean Van Gogh РVGW52 Auckland Oak  was chosen due to its character and heavy texture.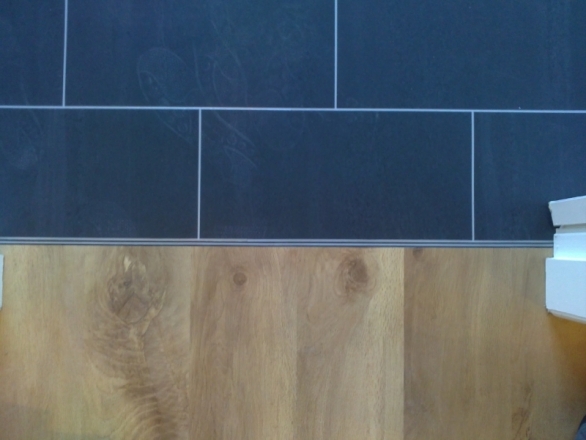 Overall the Karndean wood plank and the Amitco slate work very well together as both emulate natural materials.  The wide textured  Karndean Van Gogh planks welcome you into the house and lead  you into the study.  In the Kitchen and dinning area the Amtico Graphite Slate create that sharp contrast with the white high gloss units.  The look is transformed again at night when the lights really set off the silver stripping in between the tiles to create stunning effects.
Are you looking for a reputable flooring coverings specialist to supply and install your floors at home or commercial project? 
Take advantage of Floor Designs Nationwide installations and home consultation service in the following Cities and surrounding areas: Inverness, Aberdeen, Perth, Dundee, Edinburgh, Glasgow, Stirling, Falkirk, Dunfermline, Bothwell, Harrowgate, Newcastle, Manchester, Liverpool, Cheshire,Birmingham, Sheffield, London City, Surrey, Sussex, Buckinghamshire and all the places in between.
Floor Designs provide an excellent service of supplying Karndean , Amtico, carpets, laminates. wood flooring and commercial vinyls to private individuals and commercial users, our team are experts in design, planning and fitting of quality flooring products.
Get your job done right, first time at the right price call Floor Designs today on 01324 578093.¬†Alternatively use our FREE¬†¬†'ÄėOnline Quotation Service'Äô¬†and a member of the Floor Designs team will follow up with a professional¬†'Free Survey'¬†ensuring¬†we work together and¬†everything runs smoothly first time.